Tech for Kids Fund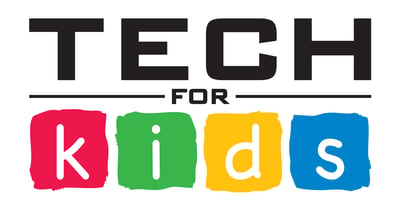 Tech for Kids was founded in 2014 by Nucleus' CEO, Martin DesRosiers. As a young kid, Martin was personally impacted by receiving his first computer (Commodore 64, 1980s, please ignore the bowl cut) as this event created the passion for technology which has led to a 20+ year career in the IT industry. The idea behind Tech for Kids was to "empower kids with technology" as not everyone has a computer at home, and sometimes the computer lab or computers at schools are the only times kids have an opportunity to touch a computer.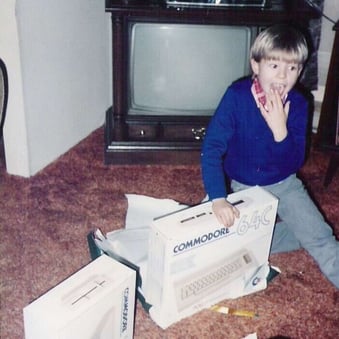 What we learned is that a lot of schools and community centres have aging and/or a lack of adequate technology for kids. This was an opportunity to give back and find ways to take good computers that were destined for recycling and put them to use.

"I vividly recall our first Tech for Kids donation; this computer lab had a handful of dead computers that wouldn't turn on for years. The parents of the school have been trying to fundraise to replace them for some time and were relieved to stumble upon our Tech for Kids program. I didn't expect the kids, parents, and teachers to be so thankful for the donation, it was obvious we were making a greater impact than we realized. Looking back at the various experiences, everyone was super thankful for the technology donations – one school even invited us to their all hands assemly to award us with a plaque and a thank you card – another school had two computers for 400 kids and we were able to outfit their entire computer lab with computers, you could tell how stoked the kids and teacher were, it was obvious we were making a positive impact and Tech for Kids was an outlet for Nucleus to give back. Unfortunately, the pandemic put a pause on our efforts but we're ready to reboot this program and supercharge computer labs, community centres, or any youth programs that need a technology boost!" - Martin DesRosiers, Nucleus CEO


Since then, our team has worked with vendors, clients, and partners to provide hundreds of used computers and new technology to schools around the Lower Mainland.
Multiple donations of 10-15+ computers have helped launch entire school computer labs.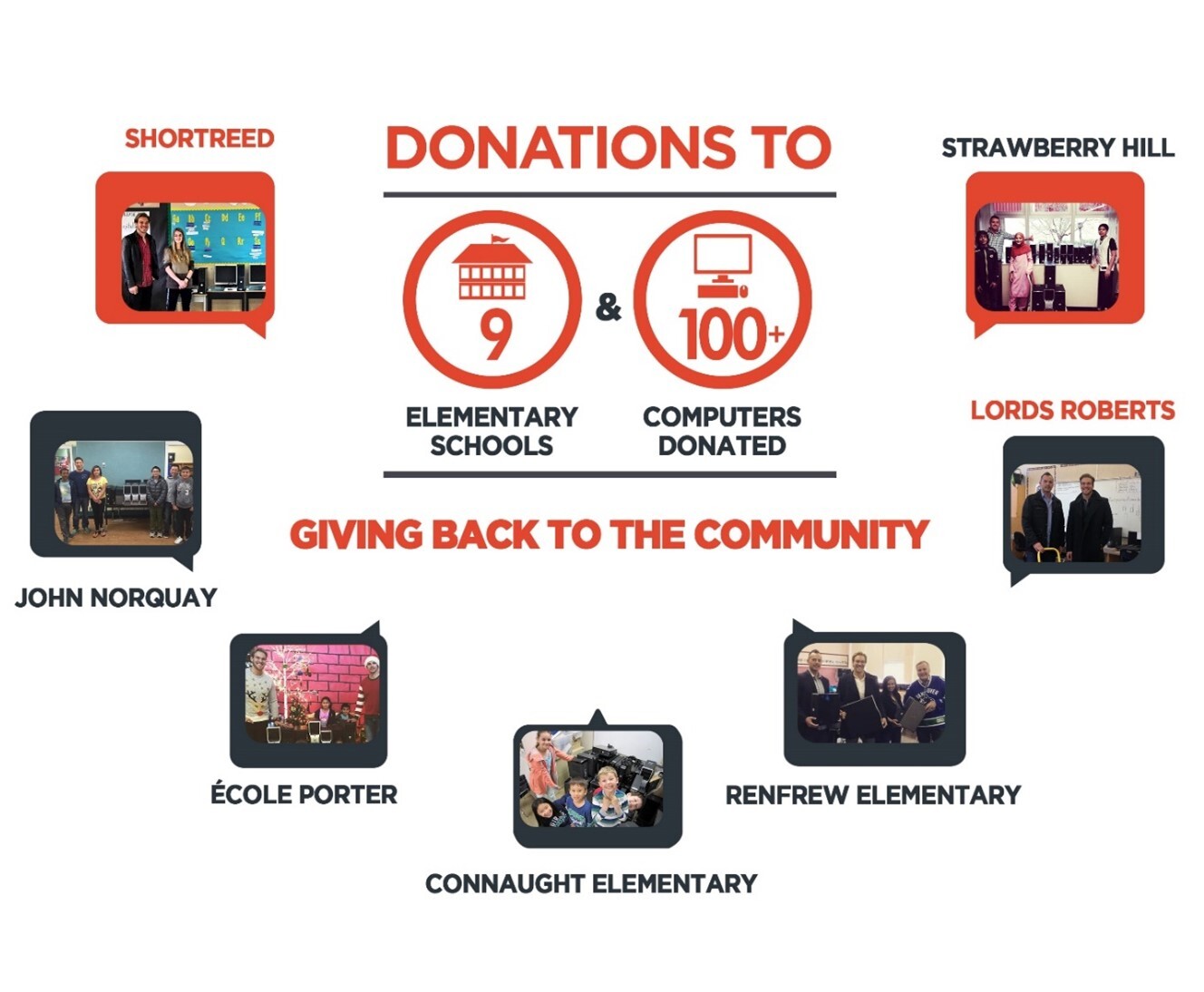 Technology Empowers Kids
Tech for Kids is founded on the belief that technology empowers kids to become intellectual explorers and plays an important function helping kids learn. Aware of the budgetary constraints on the public school system, we strive to ensure all kids, regardless of grade level, have access to technology resources. Technology is also increasingly used to assist children with learning disabilities. It is our hope that with our assistance more children can have access to the tools they need to not only succeed but excel!
"At Renfrew school we are constantly trying to stretch a small budget to get technology in our school to support student learning. Last year we had the opportunity to receive a donation of a number of computers which have been added to our other technology. Students are so appreciative when they can have chances to use technology to augment their learning. We thank the Tech for Kids initiative at Nucleus and look forward to having our school and other schools supported in providing technology to promote learning. A big Renfrew School THANKS!" - Hugh Blackman, Past Principal, Renfrew Elementary
Tech for Kids Fund
In 2019, we formally launched the Tech for Kids Fund. Nucleus made an initial donation of $5,000 on behalf of our wonderful clients. These funds are used to provide NEW technology resources to schools that need hardware technology upgrades. Whether it be new computers, monitors, iPads, or Virtual Reality equipment; we want to make a positive impact with technology within local schools (primarily Elementary level) or community centers, etc. 
We are excited and committed to continuing to empower kids via technology! If your school or youth program is in need of new technology, please reach out to us here.
Read more about some of our donations: