What is a Recovery Time Objective (RTO)?
A RTO is the maximum amount of time that your business can tolerate being without access to its critical systems and data. Depending on your industry, compliance considerations and data storage, your RTO could be minutes, hours or days. It's an important part of your disaster recovery plan and can help you minimize the impact of an outage on your business' operations. In this blog post, we will explain the importance of a RTO and how a Managed Backup Solution can help minimize disruption to your business.
There are many reasons why your business may experience downtime. Here's are some of the most common causes:
Cyber attack

Natural disaster

Power outage

Human error

Hardware or software failure
As of 2022, the average cost of a data breach in Canada was 5.64 M USD. - IBM 
The first step in setting an RTO is to define it. Defining the potential loss involves how much operational time an organization can afford (or is willing) to lose after an incident before normal business operations must resume. What business critical operations, can you not afford to lose for more than hour? These often include banking transactions, client records, CRM systems.
Once an RTO has been defined, the best technologies can be selected to prevent a disaster from happening in the first place or to minimize the impact.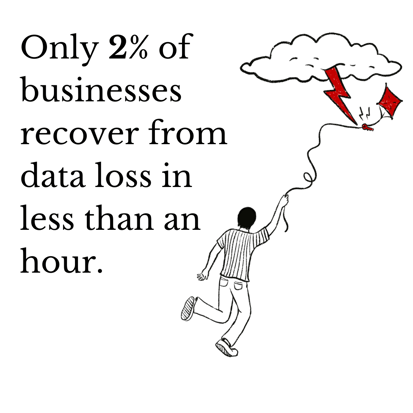 Without an effective Managed Backup solution and Business Continuity and Disaster Recovery (BCDR) plan, it could take days or weeks to get back up and running after an incident, resulting in:
Financial loss

Reputational damage

Lost productivity

Legal action

Data loss
Managed Backup
The Nucleus Managed Backup Solution is a backup and disaster recovery platform that backs your data up locally for high-availability and in the case of a disaster, ensures that you can rapidly recover with minimal disruption to your business operations with off-site backups at Nucleus' Disaster Recovery Data Center (DRDC) in Toronto. 
Among the 18% of businesses that were impacted by a cybersecurity incident in 2021, about 40% experienced an average downtime of 36 hours. -Statistics Canada
Our enhanced disaster recovery solution works by capturing images of your critical servers that are continuously updated. This allows us to quickly restore your servers in the event of a localized disaster and it provides the potential for your key employees to access critical data and services shortly after a major disaster occurs by connecting to our remote data centre.
Key Features:
Reliability
Scalability
Secure end-to-end encryption
High-availability and minimal downtime
Transparent reporting of backup health
Tied into ticketing and alerts
If you're concerned about your disaster recovery plan or need assistance setting your RTO, talk to us!