Microsoft Solutions Partner
In March 2022, Microsoft announced a major change in its Microsoft Partner Network program. Microsoft partners were recognized with a status: gold or silver based on their competencies. Following the global pandemic and the resulting major shift in how businesses operate and the needs of the modern workplace, Microsoft announced a new partner accreditation based on the capacity of a partner to drive and deliver advanced modern workplace cloud solutions.
Nucleus is pleased to announce that we are now a Microsoft Solutions Partner for Modern Work for small and medium businesses (SMBs). We've helped hundreds of SMBs across Canada shift to hybrid work using Microsoft 365. Only partners that can demonstrate client success, drive new Microsoft 365 adoptions, and meet specific benchmarks for intermediate and advanced Microsoft certifications obtain this recognition. And, we did it!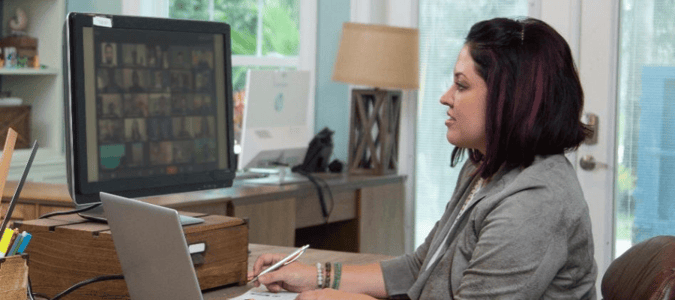 What is the modern workplace?
Microsoft's definition of the modern workplace is one where clients "can improve employee productivity and satisfaction, and create more seamless communication and collaboration across locations and platforms while maintaining the security and integrity of systems and data." Where, when, and how employees work is no longer defined by the boundaries of an office. The modern workplace uses Microsoft 365 tools and apps that harness the power of the cloud to improve collaboration, productivity and security; all of which has a positive impact on culture.
Here's a snapshot of the Microsoft 365 suite:
Azure

Microsoft Teams and Teams Voice

Enterprise mobility and security

SharePoint

Office 365 and Exchange email

Apps
Collaboration and Productivity
Leverage all that Microsoft has so offer. From Teams collaboration and chat to calling, SharePoint and OneDrive, people can work from anywhere with ease.
Microsoft 365 Migration and Cloud Adoption
Migrate from on-prem, file server, Dropbox, or Google Drive to Microsoft 365. We'll also help you with identity and access management (Conditional Access and Single Sign-On).
Microsoft Security
Have peace of mind with enterprise-grade security. We'll get you setup with email filtering, multifactor authentication, device management (yes, mobile device management too), and a backup solution for your Exchange, SharePoint, OneDrive and Teams data.
We are exceptionally proud of this achievement and recognition as a Microsoft Modern Workplace Solutions Partner and are working hard to ensure we continue to lead the way in delivering cloud solutions and onboarding new clients that are looking to modernize their IT environments. Wherever you are in your technology journey, our scalable cloud solutions will take you from where you are to where you want to be. Let's meet!