Meet Fatime, Nucleus Director of People & Culture
Over the last year many Canadian small and medium-sized business leaders decided to continue operating in a hybrid-remote work environment. As a Managed Service Provider (MSP) one of our key roles during this transition was to ensure that SMBs had the right technology, tools, and security in place to operate and excel remotely. The widespread shift to remote work, however, presented another challenge for businesses (including us): how to maintain an incredible culture, nurture employee happiness, and maintain high-levels of engagement in remote environments. We sat down with our Director of People and Culture, Fatime Mansour, to learn about her role and what we are doing at Nucleus to foster a healthy culture in a hybrid workplace.

From Construction to IT

Fatime made a pivot last year from the construction industry to Managed IT Services. Much of her professional career was dedicated to building and managing HR departments, developing policies and procedures, and implementing onboarding and training programs on health and safety, anti-bullying and harassment.

What's Different about HR in IT versus the Construction sector?

Construction HR is heavily focussed on safety and related policies and procedures. At a MSP employee wellness and onboarding takes priority. Our top HR priorities are employee wellness (happiness/engagement), staff elevation, and diligence in onboarding new employees.





What's a Typical Day like at Nucleus in HR?

There is no same day at Nucleus. I do everything from onboarding new employees, meeting 1-on-1 with employees, taking part in POD huddles, changing and updating documentation and bettering our policies and procedures. My main function is looking after Nucleus' people and that always takes priority over all other work.

What is the Biggest Challenge Managing the HR at a Remote-first MSP?

The biggest challenge is keeping our employees engaged. We need to host social events that include everyone because we have employees working all over Canada, in the Philippines and Mexico so we must think outside the box.

Right now, we host monthly online events, create opportunities for daily conversations and 1-on-1 meetings among the team and we host one annual Canadian in-person event. Our monthly virtual company-wide social events are held during work hours. We use a third-party company for this called Confetti. We also encourage daily online opportunities for staff to share ideas on specific topics in different Slack social channels and meet 1-on-1 once a month for 30 minutes with a randomly matched employee to promote cross-team communication. These conversations are facilitated by an app called Donut. One annual Canadian company-wide gathering happens in the December holiday season in Vancouver.

We are currently reviewing all these activities and identifying new and innovative ways to bring people together and foster a healthy, happy workplace!

What's been the Most Impactful Engagement you've Experienced at Nucleus?

In the first three months of my employment at Nucleus, I had the opportunity to meet with every single employee. This isn't easy to do in mid-sized business but the Leadership Team at Nucleus encouraged me to make the time and commit to meeting every single employee.

What Do you Love about Working at Nucleus?

The Leadership Team is 100% committed to ensuring our employees are happy. Nucleus is adopting an internal strategy to keep employees happy and engaged. We're looking at the common interests of our employees and trying to foster more communication and activities around those interests.

What Tools and Applications Do you Use?

I rely heavily on BambooHR, Rise (benefits/payroll), Slack, Zoom, the Microsoft 365 suite of tools, Lattice and ConnectWise (our industry-standard business software).

What Do Nucleus Employees LOVE Most about Working Here?

Number one: the people. There are also some HR policies that employees couldn't live without, like birthdays off and flexibility (working from home, working from anywhere, flexible workday hours). We've recently launched the four-day work week pilot programme and a handful of employees opted into the program.

Tell us About Fatime! How Do you Balance Work and Life?

I take "me" time. Breaks are necessary and I lead by example by showing the team that your life outside of work is your number one priority at the end of the day. I enjoy hiking, reading (Tony Robbins is one of my biggest inspirations), travelling to or in Seattle (three times a week) and I am a Minions fan.

I watched Despicable Me and I found the Minions to be so adorable; they are funny, little evil geniuses and each of them are a different character. I am in love with them!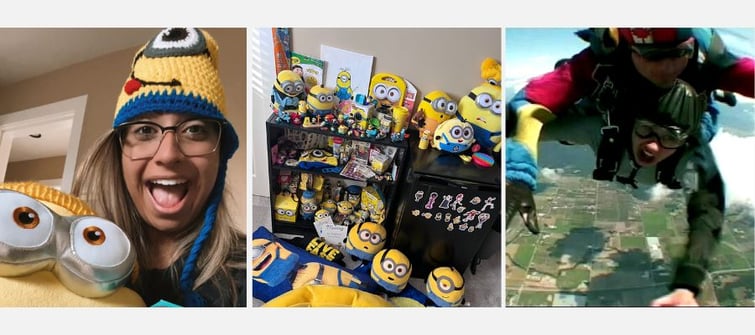 Where Do you Call Home?

I was born in raised in Surrey, British Columbia. It's a great location to access the border, get to White Rock to the ocean or go downtown Vancouver.

Where Do you Want to Visit Next?

Thailand

Want to learn more about our culture or browse open positions? We are hiring in Vancouver, Calgary and Toronto! Check out our careers at: https://yournucleus.ca/careers/