eSentire Tour
Our multi-layered Managed Security Services offering includes a stack of industry leading security solutions, each designed to secure our clients from a different attack vector. One critical component of this solution is Managed Detection & Response (MDR) aka 'next-gen AV', which includes a modern 24/7 Security Operations Centre (SOC) delivered by our Security Partner eSentire Inc. Last week, our CTO, Karl Fulljames, took a tour of eSentire's Canadian SOC, but before we get into his tour, let's unpack what MDR is!
What is Managed Detection & Response?
Managed Detection & Response (MDR) is a security service that combines machine learning technology and certified IT Security Professionals to deliver threat hunting, analyzing, monitoring and response. The key benefit of this service is that is helps quickly identify and limit the impact of a threat. At Nucleus, we have partnered with eSentire to deliver industry leading MDR Services.
eSentire Inc.
Founded in 2001, eSentire is one of the world's leading authorities in MDR providing businesses with the most complete threat response capacity. Key capacities include:
24/7 threat monitoring and detection

Threat investigation

Machine learning

Multi-signal coverage and visibility

Automated threat containment (disruption)

Leading, rapid cybersecurity expertise, management and thought leadership

Penetration testing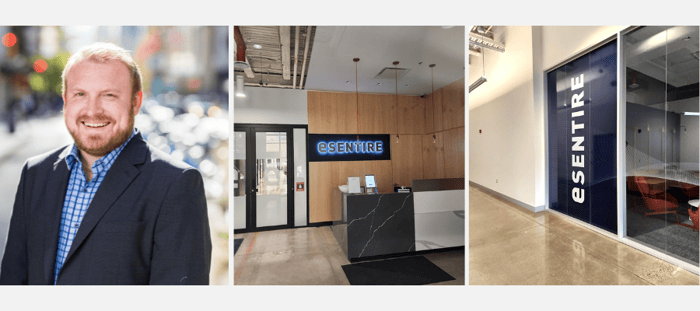 The Canadian SOC resides in in Waterloo, Ontario. ESentire's Cybersecurity Analysts hold credentials in SSCP, OSCP, CSAP, CISSP and Security+, Linus+, Server+ and more. They are SOC2 and ISO27001 certified. Their team works as a direct extension of our team to deliver the highest level of security monitoring, threat hunting, containment, and rapid response for any cybersecurity related incidents.

Karl's visit to eSentire's SOC
Last week, Karl took a tour of eSentire's Security Operations Centre. He had the opportunity to speak with their SOC Team Leads and Incident Response Team. He was also fortunate enough to spend an afternoon with Tia Hopkins, eSentire's Chief Cyber Resilience Officer and Field CTO. The ongoing collaboration and knowledge sharing between what Nucleus is seeing 'in the field', combined with eSentire's insight on the threat landscape, provides valuable opportunities to evolve our Managed Security Services and Cybersecurity Services offerings. We are committed to continually growing and enhancing our security offerings to defend Canadian businesses from cyber threats.
Learn more about our Managed Security Services at: https://yournucleus.ca/services/cybersecurity-services/